12 Feb, 2021
Tecnoglass To Release 2020 Full Year & Q4 Results March 2: Here's How To Participate In The Conference Call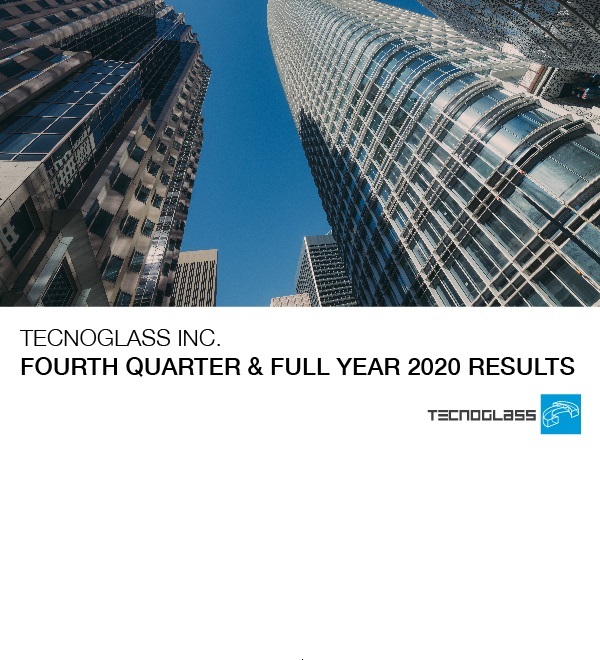 February 12, 2021
Barranquilla, Colombia based Tecnoglass, Inc. (NASDAQ: TGLS), the leading manufacturer of architectural glass, windows, and associated aluminum products serving the global residential and commercial end markets, has announced it will release financial results for the fourth quarter and full year 2020 before the market opens on Tuesday, March 2, 2021. The management will host a webcast and conference call that same day at 10:00 a.m. US eastern and Bogota, Colombia time to review the company's results.
The conference call will be broadcast live over the Internet. Additionally, a slide presentation will accompany the conference call. To listen to the call and view the slides, please visit the Investors section of Tecnoglass' website at www.tecnoglass.com. Please go to the website at least 15 minutes early to register, download and install any necessary audio software. For those unable to access the webcast, the conference call will be accessible by dialing 1-877-705-6003 (domestic) or 1-201-493-6725 (international). Upon dialing in, please request to join the Tecnoglass Fourth Quarter 2020 Earnings Conference Call.
To listen to a telephonic replay of the conference call, dial toll-free 1-844-512-2921 (domestic) or 1-412-317-6671 (international) and enter pass code 13715780. The playback can be accessed through June 2, 2021.
Source:
https://www.financecolombia.com/tecnoglass-to-release-2020-full-year-q4-results-march-2-heres-how-to-participate-in-the-conference-call/